Ransomware attacks, which cause data loss and system failures, may be disastrous for any healthcare organization. Ransomware attacks can be highly detrimental to healthcare organizations, as they are particularly vulnerable to disruption and data loss due to the sensitive nature of their services.

What exactly is ransomware? How to guard against ransomware?

"Ransomware" is malicious software or malware that limits access to a computer system or its data until a ransom is paid. Most medical institutions use a Windows server, antivirus software, and a HIPAA-compliant security information and event management (SIEM) system to monitor their network. Organizations should also maintain up-to-date software and install frequent security updates to guard against ransomware, back up essential data regularly, limit user access to network locations, and regulate user rights.

Furthermore, health organizations should be aware of phishing attempts and regularly educate personnel on cybersecurity best practices.

How does the attack work?

Ransomware is often disseminated through phishing emails or websites. You may be prompted to update your antivirus when you visit a website or click on the link from the email. When you do that, harmful software may be downloaded to your computer, encrypting your data and holding it hostage until you pay the price to release the encryption.
Ransomware, or malicious software, often demands money in an untraceable form, such as bitcoin, and threatens to wipe the contents if payment is not received. Within minutes, ransomware may significantly harm the files and data on your computer.
There are multiple ways ransomware will try to attack your IT infrastructure and get into it. trying to find the open door. But generally, there are a few steps before it goes in and encrypts your infrastructure and file system.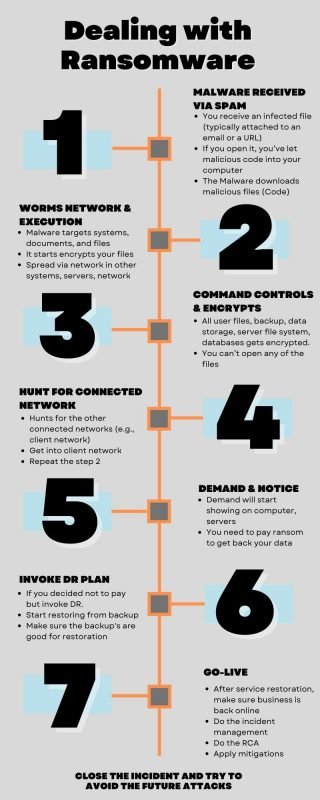 The attacker always tries to find the vulnerability in the system or server or get into it via a user system like an office staff computer via email. When they gain access to the organization's system, it will look for shared discs and attempt to encrypt every piece of data it can find, including the method that executed the ransomware.

The ransomware will attempt database encryption if your medical software, such as your EHR, is located on a Windows or Mac server. By encrypting databases, hackers can prevent healthcare organizations from accessing their patient data, medical records, and other essential documents.

In addition, this exploit may also allow hackers to gain access to medical records by using stolen usernames and passwords, leading to potential data breaches, financial losses, and service disruptions. The significant risk posed by this type of ransomware is the disruption of healthcare services and the loss of patient data, which can be catastrophic to the functioning of any healthcare organization.

How do we mitigate the ransomware risk?
To mitigate these risks, healthcare organizations must have robust security systems, such as strong authentication and access control protocols, frequent data backups, a comprehensive IT security policy that is regularly monitored, and a well-organized cybersecurity awareness program.
Conduct a Business Impact Analysis (BIA) to forecast the effects of ransomware interruption and collect data to establish recovery solutions. This will help healthcare organizations determine the risk posed by a potential ransomware attack, what resources are at risk, how long recovery could take, and the financial consequences of an attack. Additionally, healthcare organizations must have a contingency plan and incident response team in place for ransomware attacks

Make numerous backups to recover crucial systems in the event that the crooks erase your data (this sometimes occurs even after the ransom is paid). Make one set of backups inaccessible from your organization's network.

Additionally, healthcare organizations should use advanced monitoring and detection systems to identify malicious activities and respond quickly to reduce any potential damage caused by a ransomware attack.

Furthermore, healthcare organizations need to have a comprehensive incident response plan outlining the steps to take in a ransomware attack. This plan should include a dedicated team that promptly identifies, investigates, and responds to suspicious activities.

To protect their patients' data and their systems' security, medical organizations should take proactive steps to prevent any malicious activities from occurring.

This should include the implementation of appropriate cybersecurity measures such as two-factor authentication, regular security patches, and the enforcement of strong passwords.

As a result, healthcare organizations must remain vigilant and take proactive steps to protect their systems and data from ransomware attacks.

One of the most important steps organizations can take to protect themselves from ransomware attacks is to ensure that their databases are encrypted and kept secure and that access to their systems is restricted to authorized personnel only.

Regular backups of patient records should also be stored on secure servers, preferably off-site, to mitigate any losses or damages caused by ransomware attacks.

Additionally, regular security training for staff should be conducted to ensure that employees understand how to recognize and respond appropriately to potential ransomware threats.

Organizations should also conduct ongoing risk assessments to identify weaknesses in their systems and address any security concerns that arise.

A comprehensive cyber security strategy should be established and regularly updated to ensure that all potential threats are monitored, identified, and addressed promptly.

Organizations should deploy advanced security measures to reduce the risk of ransomware attacks and invest in technologies such as next-generation firewalls, endpoint protection platforms, and security information and event management solutions to minimize the potential for ransomware attacks.

These measures can provide a proactive defense against cyber threats and help organizations monitor, detect, and respond promptly to security incidents. In addition, organizations should provide their employees with cybersecurity awareness training to help them understand the risks posed by ransomware and how to recognize the signs of a potential attack.
Refer the CISA website for more info (How To Protect From Ransomware)
Refer the previous article on What Are The Consequences Of A Data Breach For A Company?